Shop Paddle North
Portager Paddle Board
This is our most popular board because of its portability and versatility. It is one of the highest performing inflatable paddle boards on the market. It has a very comparable feel to our rigid model, called the Loon.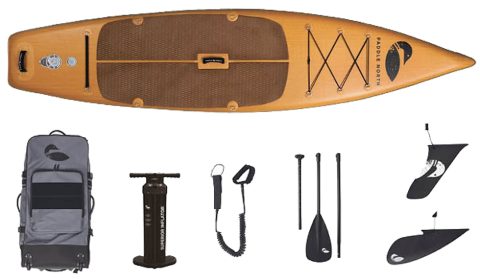 Portager XL Paddle Board
A variation of our most popular paddle board, The Portager XL is a true two-person board with maximum versatility. Stand and paddle, or sit and kayak… together. It supports up to 650 lbs, which makes it great for paddling with friends, family, and pets. The extra space can also be used for more fishing gear, or additional room to exercise or just relax. Sit or Stand. You choose.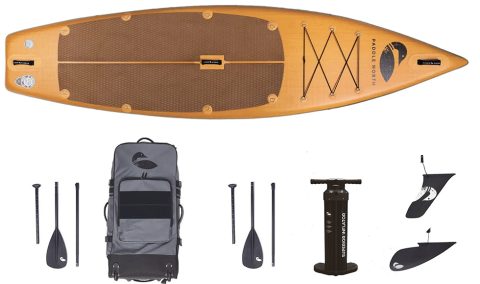 Introducing Play
Paddle North's newest inflatable paddle board. Play maximizes fun on the water, while maintaining our attention to detail and quality. It's extremely well balanced for paddlers up to 250 lbs (works for kids or adults, or combinations of kids/adults, or even dogs – although dogs will require human assistance).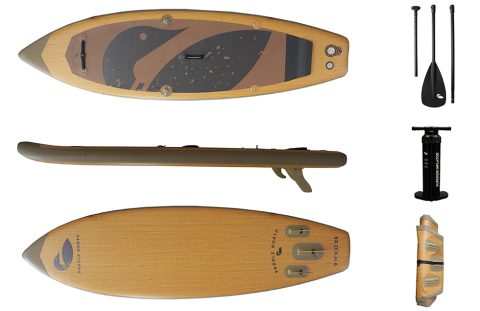 There are four things that can quickly ruin fun with inexpensive inflatable paddle boards:
Seams fail from heat increasing the air pressure.

Sharp objects can penetrate thin PVC.

Cheap accessories can fail on the water.

Board can be too narrow for proper stability (wider board = increased stability).
The Play is extremely well thought out and designed to overcome these problems. It has a proprietary, built-in pressure regulator that monitors the board's pressure to avoid over inflation. We've developed PVC RAILS that are thicker than our competitors. They are then machine welded (not hand glued) for maximum durability.
All of this is backed by our industry-best 4-year warranty.
Utility Dock XL – 6'x12′

It's robust, rigid, and ready for any body of water. The Utility Dock XL will provide you and your family (yes, even your dog) infinite possibilities for fun on the water.
Anchor it as a swim raft out on the lake all season.
Tow it at an idle speed behind the boat, then use it as a sun deck out at the sand bar.
Connect it to your dock to create a user friendly, water level launch point for kayaks, paddle boards or jet skis.
Set up as a patio on the water to relax in chairs, sun tan, fish, improve your yoga poses, or even eat lunch.
Recreate your kitchen table in waist deep water for card games, happy hour, fish stories and more.
Flip it over, soap it up and slip-and-slide all day long.
Bring tools to wash your boat, work on the engine or set you boat lift in place.
Lake Surfer
The new Lake Surfer board is a skim-style board. It is great for beginners, providing a lot of forgiveness, making it easier to find the pocket and drop the rope. But don't mistake it as a beginner-only board, advanced riders won't find any restrictions of fun on the Lake Surfer. The rails are sharp and keep you stable on the wave, while the tail allows for a high level of maneuverability.